Regional Projects in Your Area
In an effort to promote and improve public outreach for upcoming projects, SCDOT has developed a list of active projects in four primary regions of the state. Click on a region to view information about upcoming meetings, project schedules, opportunities for public comment, and much more.
Educational Tools
Public involvement is an integral part of the transportation development process. Input received from the public during the preliminary engineering phase of project development influences the ultimate outcome of any project. SCDOT's mission is to find solutions that provide adequate, safe, and efficient transportation services for the public that minimize impacts to the human and natural environment. To learn more about the transportation decision making process and other considerations that are made during project development, please take an opportunity to watch the educational videos provided below.
Videos
NEPA and the Transportation Decision Making Process
Highway Traffic Noise
Hydrology Considerations on SCDOT Projects
Click on a region to view projects in your area.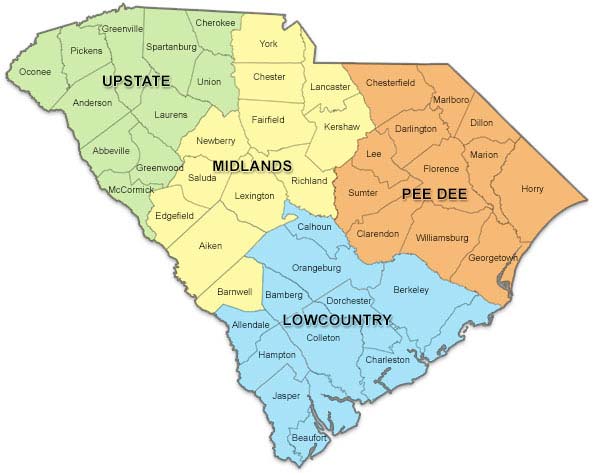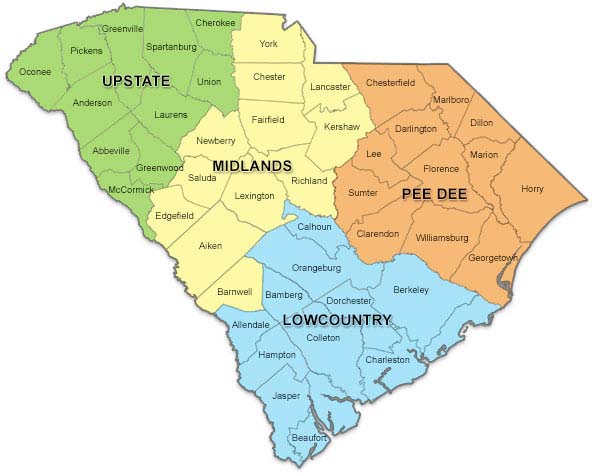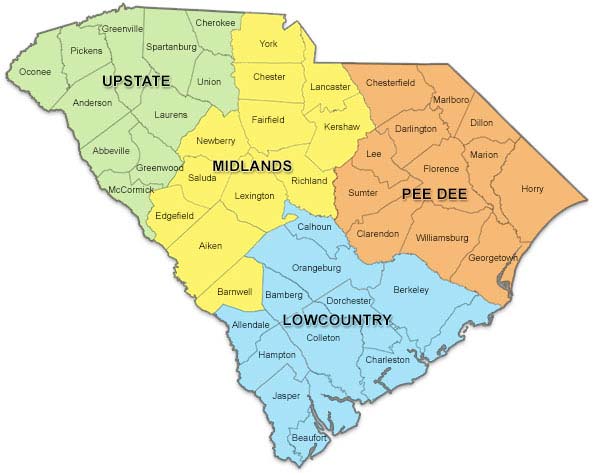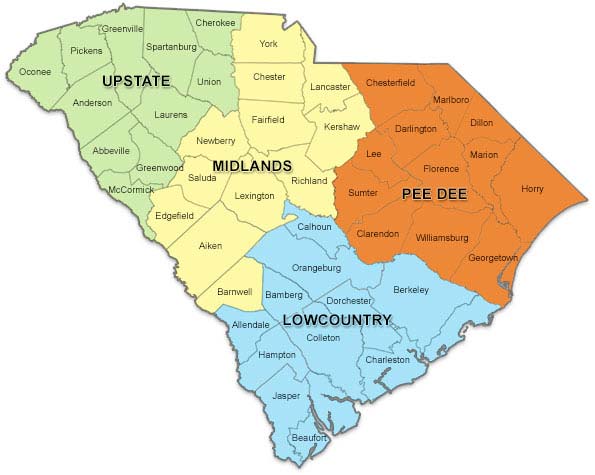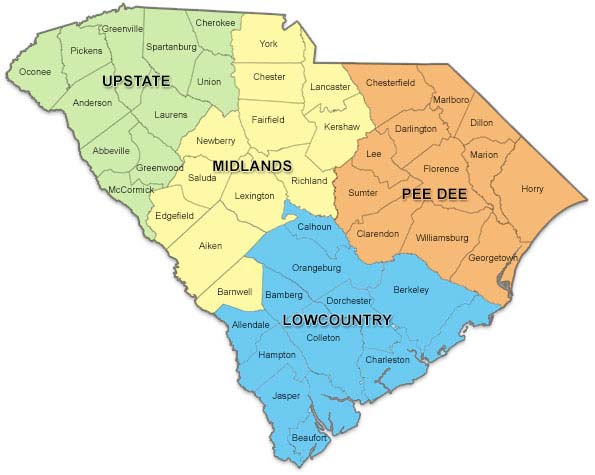 Project Name
County
Region
EMERGENCY Bridge Replacement Project
Hampton
Lowcountry
Bridge Repair Project (UPDATE TO CLOSURE AND DETOUR ROUTES) in Pickens County
Pickens
Upstate
US 17 Business - Corridor Safety Improvement Project in Horry County
Horry
Pee Dee
SC 28 (Abbeville Hwy) at SC 185 (Due West Hwy) Intersection Improvement Project in Anderson County
Anderson
Upstate
Two (2) Bridge Repair and Rehabilitation Projects in Laurens and Saluda Counties
Laurens
Upstate
Two (2) Bridge Repair and Rehabilitation Projects in Laurens and Saluda Counties
Saluda
Midlands
US 17 Business – Corridor Safety Improvement Project in Horry County
Horry
Pee Dee
Bridge Repair and Rehabilitation Project in Saluda County
Saluda
Midlands
Two (2) Bridge Repair and Rehabilitation Projects in Laurens County
Laurens
Upstate
Bridge Repair and Rehabilitation Projects in Abbeville, Edgefield, McCormick, and Greenwood Counties for four (4) bridges – Abbeville County
Abbeville
Upstate
Bridge Repair and Rehabilitation Projects in Abbeville, Edgefield, McCormick, and Greenwood Counties for four (4) bridges – Edgefield
Edgefield
Midlands
Bridge Repair and Rehabilitation Projects in Abbeville, Edgefield, McCormick, and Greenwood Counties for four (4) bridges – McCormick
McCormick
Upstate
Bridge Repair and Rehabilitation Projects in Abbeville, Edgefield, McCormick, and Greenwood Counties for four (4) bridges – Greenwood
Greenwood
Upstate
S-279 (Boiling Springs Rd) at S-627 (Bethany Church/Redmond Rd) in Lexington County
Lexington
Midlands
US 378 over Little Saluda River Bridge Replacement Project in Saluda County
Saluda
Midlands
S-34-560 (Foxboro Rd), S-34-477 (Shannon Rd), and S-34-87 (Old Conway Rd) Intersection in Marion County
Marion
Pee Dee
US 29 (S. Brannon Road to Fleming Drive) Safety Corridor Project in Greer
Greenville
Greer
I-77 Exit 26 New Interchange and Connecting Roads
Richland
Midlands
Shared Use Path Project (New Gray Rock Road) in York County
York
Midlands
SC 185 over Rocky River - US 176 over Crims Creek & SC 213 over Crims Creek - Bridge Maintenance Projects in Newberry County
Newberry
Midlands
SC 418 over Huff Creek – Bridge Maintenance Project in Anderson County
Anderson
Upstate
SC 418 (Old Hundred Rd) over Huff Creek – Bridge Maintenance Project in Greenville County
Greenville
Upstate
SC 6 at S-65 (Meadowfield Rd) Intersection Improvement Project in Lexington County
Lexington
Midlands
S-21-829 Holly Circle at US 76 (W. Palmetto St) & SC 51 (2nd Loop Rd) - Intersection Improvement Project in Florence County
Florence
Pee Dee
S- 244 (Counts Sausage Road) BRO Bush River
Newberry
Upstate
SC 28 (Hwy 28) over Rocky River – Bridge Maintenance Project in Anderson County
Anderson
Upstate
SC 332 (Norway Road) over Willow Creek in Orangeburg County
Orangeburg
Lowcountry
US 29 (Karen Drive to East Lee Road) Road Safety Assessment Improvement Project in Greenville County
Greenville
Upstate
US 25 Rural Road Safety Improvement Project in Greenville County
Greenville
Upstate
I-26 at I-95 Interchange Imporvements
Orangeburg,Dorchester
Lowcountry
US 321 Rural Road (Deerfield Road/Cotton Hill Road) Safety Improvement Project in Jasper County
Jasper
Lowcountry
S-46-998 over Wildcat Creek - Closed and Load Restricted Bridge Package 20 in York County
York
Upstate
US 221 Rural Road Safety Improvement Project in Greenwood/Laurens Counties
Greenwood/Laurens
Upstate
S-29-292 over Bear Creek - Closed and Load Restricted Bridge Package 20 in Lancaster County
Lancaster
Midlands
SC 418 (Fountain Inn Road) Bridge over Arnold Creek
Spartanburg
Upstate
SC 385 & S-35-17 (Academy Road) Intersection Improvement Project in Marlboro County
Marlboro
Pee Dee
S-37 (JP Stevens) at W. Cherry Road Intersection Improvement Project in Oconee County
Oconee
Upstate
I-26 Interstate Widening Project (Mile Marker 137 to Mile Marker 146) in Orangeburg County
Orangeburg
Lowcountry
S-16-179 (McIver Road) At S-16-252 (Old Florence Road) Intersection Improvement Project in Darlington County
Darlington
Pee Dee
I-95 Bridge Replacement Projects over Lake Marion in Clarendon and Orangeburg Counties
Clarendon,Orangeburg
Lowcountry
S-52 (Lanham Rd) over Horn Creek in Edgefield County
Edgefield
Midlands
US 278 over Southern Railroad, US 278 over Horse Creek, SC 421 over Southern Railroad Bridge Repair Projects Project in Aiken County
Aiken
Midlands
US 301 over the Savannah River Allendale County
Allendale
Lowcountry
US 701 (Northbound Bypass Bridge) over Huggins Swamp Bridge Replacement Project in Horry County
Horry
Pee Dee
I-526 @ Long Point Road Interchange Improvement Project Public Hearing in Charleston County
Charleston
Lowcountry
S-169 (Von Ohsen Road) and S-881 (Lincolnville Road) Intersection Improvement Project in Charleston County
Charleston
Lowcountry
Interstate 26 from Mile Marker 137 to Mile Marker 146 Orangeburg County
Orangeburg
Lowcountry
Safety Improvement Project - SC 183 (Cedar Lane Road/Pete Hollis Boulevard) in Greenville County
Greenville
Upstate
S-268 (Haltiwanger Road) Bridge Replacement Project over Rocky Creek in Greenwood County
Greenwood
Upstate
Bridge Replacement Project - US 176 (River Drive) bridge over CSX Railroad in Richland County
Richland
Midlands
Interchange Improvement - SC 81 Cely Lane (L-912) and SC 81 at McNeely Rd. (L-183) in Anderson County
Anderson
Upstate
Bridge Replacement – SC 172 (Bull Swamp Rd) Over Caw Caw Swamp in Calhoun County
Calhoun
Lowcountry
US 178 and I-85 in Anderson County
Anderson
Upstate
S-49 (River Drive) Bridge Replacement over Cherokee Creek in Cherokee County
Cherokee
Upstate
Bridge Replacement and Rehabilitation Projects in Union County Closed and Load Restricted Bridge Package 17
Union
Upstate
I-77 Exit 82-A, B, & C Interchange Modification in York County
York
Midlands
S-985 (Lakeshore Drive) Bridge Replacement over Unnamed Creek
Richland
Midlands
Blossom Street Bridge Project
Richland
Midlands
US 29 Safety Improvements in Cherokee County
Cherokee
Upstate
US 29 Safety Improvements in Cherokee County
Cherokee
Upstate
I-77 Bridge Deck Rehabilitation Project in Richland and Lexington Counties
Richland, Lexington
Midlands
S-258 (Chattooga Ridge Road) over Village Creek in Oconee County
Oconee
Upstate
East Croft Circle Culvert Replacement Project in Spartanburg County
Spartanburg
Upstate
SC 260 over Second Water – Lake Marion in Clarendon County
Clarendon
Lowcountry
US 29 and S-146 and S-331 Intersection Improvements Projects in Anderson County
Anderson
Upstate
SC 150 (S. Limestone St/ Pacolet Hwy) at S-111(E O'Neal St) Intersection Improvements Project in Cherokee County
Cherokee
Upstate
S-258 (Chattooga Ridge Road) over Village Creek Bridge replacement Project in Oconee County
Oconee
Upstate
East Croft Circle Culvert Replacement Project in Spartanburg County
Spartanburg
Upstate
Road Safety Assessment Project in Berkeley County
Berkeley
Upstate
Roadway Improvements in Greenville County
Greenville
Upstate
Bridge Repairs in Bamberg County
Bamberg
Lowcountry
Bridge Repair Project on S-23-941(Bridges Road) in Greenville County
Greenville
Upstate
Road Improvement Project on US 178 in Anderson and Pickens Counties
Anderson, Pickens
Upstate
US 29 Church Street Bridge Rehab Project
Greenville
Upstate
SC 133 (Crowe Creek Road) Bridge Replacement over Crow Creek Pickens County
Pickens
Upstate
SC 183 (Farrs Bridge Rd) at S-95 (Jameson Rd) Pickens County
Pickens
Upstate
Closed and Load Restricted Bridge Package 16 US 123 Northbound Bridge Has Been Added For Replacement
Pickens
Upstate
US 25 NB & SB Bridges over N. Saluda River & S-119
Greenville
Upstate
Mr. Joe White and 21st Safety Improvements Project
Horry
Pee Dee
Proposed Bridge Replacement on Oak Park Rd (S-103) over Tools Fork Creek
York
Midlands
Public Information Meeting for Intersection Safety Improvement Project at US 501 and Cannon Rd in Horry County
Horry
Pee Dee
Public Information Meeting for three (3) Proposed Load Restricted Bridge Repair Projects in Darlington County and Public Information Outreach for two (2) Proposed Load Restricted Bridge Repairs in Dillon and Marion Counties
Marion, Dillon
Pee Dee
SC 61 Rural Roads Safety Project in Colleton County
Colleton
Lowcountry
Proposed Bridge Replacement for US 17 over Edisto River in Charleston and Colleton Counties
Charleston, Colleton
Lowcountry
Proposed I-526 @ Long Point Road Interchange Improvements Project In Charleston County
Charleston
Lowcountry
Bridge Repair Projects on SC 3 in Allendale County
Allendale
Lowcountry
Bridge Repair Project on US 21 in Fairfield County
Fairfield
Midlands
Bridge Repair Project on SC 215 in Chester County
Chester
Midlands
Downtown Charleston Bike and Pedestrian Improvements Project in Charleston County
Charleston
Lowcountry
Bridge Repair Project US 21 Bridge over Southern Railroad in Chester County
Chester
Midlands
Bridge Repair Projects District 4 Package 3 in Chesterfield and Chester Counties
Chester, Chesterfield
Midlands
Bridge Repair Projects District 4 Package 3 in Chesterfield and Chester Counties
Chester, Chesterfield
Pee Dee
Bridge Repair Projects in District 4 Package 2 in Lancaster, York and Union Counties
Lancaster, York, Union
Midlands
Bridge Repair Projects in District 4 Package 2 in Lancaster, York and Union Counties
Lancaster, York, Union
Upstate
I-95 Widening: Savannah River to US 278
Jasper
Lowcountry
US 401 (Sparrow Swamp), SC 34 (Black Creek), and SC 34 (Swift Creek) Bridge Repair Projects
Marion, Darlington, Dillon
Pee Dee
US 401 (Sparrow Swamp), SC 34 (Black Creek), and SC 34 (Swift Creek) Bridge Repair Projects
Marion, Darlington, Dillon
Pee Dee
Public Information Meeting for three (3) Proposed Load Restricted Bridge Repair Projects in Darlington County and Public Information Outreach for two (2) Proposed Load Restricted Bridge Repairs in Dillon and Marion Counties
Marion, Darlington, Dillon
Pee Dee
Intersection Safety Improvement Project at US 501 and Cannon Rd in Horry County
Horry
Pee Dee
Proposed Bridge Replacement on Oak Park Road (S-103) over Tools Fork Creek
York
Midlands
Proposed Bridge Replacement for US 17 over Edisto River in Charleston and Colleton Counties
Charleston
Lowcountry
Proposed US 29 Bridge Replacement over Southern Railroad in Cherokee County
Cherokee
Upstate
SC 61 – Beech Hill Road Safety Improvements
Summerville
Pee Dee
Public Information Meeting for the proposed US 378 and 16th Avenue Intersection Improvement project in Horry County
Horry
Pee Dee
Downtown Charleston Bike and Pedestrian Improvements Project in Charleston County
Charleston
Lowcountry
Shannon Drive (S-384) over Brushy Creek Bridge Replacement Project in Greenville County
Greenville
Upstate
US 378 and 16th Avenue Intersection Improvement project in Horry County
Horry
Pee Dee
Proposed Corridor Improvement Project US 21/178 Bypass (Joe S. Jeffords Highway)
Orangeburg
Midlands
S-26 (Fork Hill Road) Bridge Replacement over Horton Creek, in Lancaster County
Lancaster
Midlands
S-820 (Greenleaf Road) Bridge Replacement over Bullock Creek, York County
York
Midlands
US 378 and 16th Avenue Conway Intersection Improvements in Horry County

Horry
Pee Dee
Proposed Corridor Improvements along SC 3 (Marlboro Ave.) In Barnwell County

Barnwell
Midlands
US 21(Anderson Road) at S-162 (Hall Spencer Road) Intersection Project in York County

York
Midlands
Proposed Bishopville Truck Route Project in Lee County

Lee
Pee Dee
Cross Island Parkway (US 278) Toll Conversion Project

Beaufort
Lowcountry
SC 901 (Edgeland Rd) Improvements
Chester
Midlands
S-114 (Hauser Street) Bridge over Turkey Creek Project, Sumter
Sumter
Pee Dee
S-55 (Miller Road) Bridge over Shot Pouch Branch Project, Sumter
Sumter
Pee Dee
Bridge Replacement on S-258 (Blink Bonnie Rd) over Thorntree Creek Project in Fairfield Co.
Fairfield
Midlands
Proposed Two Bridge Replacements on Road S-22 (Veterans Road) over S. Edisto River in Aiken County
Aiken
Midlands
S-62/S-75 Ashley Phosphate Road Safety Improvements in Dorchester/Charleston Counties
Dorchester, Charleston
Lowcountry
US 301 Bridge Replacement over the Savannah River
Allendale
Midlands
S-228 English Lane Bridge Replacement over Black River in Lee County
Lee
Pee Dee
S-41 Bridge Replacement over Maiden Down Swamp in Marion County
Marion
Pee Dee
Proposed Corridor Improvements along SC 3 (Marlboro Ave.)in Barnwell County
Barnwell
Midlands
US 21(Anderson Road) at S-162 (Hall Spencer Road) Intersection Project in York County
York
Midlands
S-884 (Zinker Road) Proposed Bridge Replacement over Fishing Creek in York County
York
Upstate
S-908 (Gap Creek Road) at Gary Armstrong Intersection Improvements Project in Spartanburg County
Spartanburg
Upstate
US 29 at S-96 Safety Intersection Improvements Project Anderson County
Anderson
Upstate
SC 9 (Pageland Hwy) over North Branch Wildcat Creek / Gills Creek Lancaster County
Lancaster
Midlands
SC 72 (Pageland Hwy) over Bear Creek / South Fork Fishing Creek Chester County
Chester
Midlands
Bridge Replacement Project, S-47 (Baskins Hill Road) over Baskins Creek in Lancaster County
Lancaster
Midlands
I-26 Widening and Improvements in Calhoun and Lexington Counties
Calhoun and Lexington Counties
Midlands
S-884 (Zinker Road) Proposed Bridge Replacement over Fishing Creek
York
Midlands
I-77 Panther Interchange Design-Build Project in York County
York
Midlands
US 1 (Jefferson Davis Highway) bridge over the CSX railroad in Kershaw County
Kershaw
Midlands
I-26 @ US 21 Interchange Improvements in Lexington and Calhoun County
The South Carolina Department of Transportation (SCDOT) proposes to make improvements to the Exit 119 interchange along Interstate 26 (I-26) at US 21/US 176 that will correct geometric deficiencies and support increased traffic anticipated for the interchange.
Lexington, Calhoun
Midlands
US 521 @ S-755 Safety Improvements Project in Lancaster County
The South Carolina Department of Transportation proposes safety improvements to the US 521 (Charlotte Highway) and S-755 (North Corner Road) in Lancaster County, South Carolina.
Lancaster
Midlands
Carolina Crossroads
Located in the heart of South Carolina, the Carolina Crossroads I-20/26/126 Project is the number one interstate priority for South Carolina.
Lexington
Midlands
I-26 Widening - MM 85 to MM 101
Widening Highway I-26 from approximately 1.6 miles west of the SC 202 (Exit 85) interchange to approximately 0.4 miles west of the US 176 (Exit 101) interchange.
Newberry, Lexington, Richland
Midlands
S-48 (Columbia Avenue) Corridor Improvement Project in Lexington County
Plan to make improvements to the S-48 (Columbia Avenue) Corridor in order to provide traffic congestion relief from the I-26 and S-48 interchange to the S-48 / S-51 (Amicks Ferry Road) / US 76 (Chapin Road) intersection located in down town Chapin.
Lexington
Midlands
Hitchcock Parkway Improvements in Aiken County
The South Carolina Department of Transportation (SCDOT), in cooperation with the Federal Highway Administration (FHWA), proposes to improve SC 118 (Hitchcock Parkway) from US 1 (Jefferson Davis Highway) to SC 302 (Silver Bluff Road) in the City of Aiken.
Aiken
Midlands
US-17 over the Edisto
Charleston
Lowcountry
S-546 (Amy Drive) Sidewalk Improvements Project in Berkeley County
Berkeley
Lowcountry
S-1632 (Old Pond Road) Bridge Replacement over Simons Creek, Charleston
Charleston
Lowcountry
Intersection Improvements along S-22 (Bluff Road) in Allendale County
Allendale
Lowcountry
S-51 (Camp Creek Road) Bridge Replacement over Gills Creek in Lancaster County
Lancaster
Midlands
Intersection improvements at SC 125 (Atomic Road) and S-62 (N. Silverton Street) in Aiken County
Aiken
Midlands
US 278 at SC 300 and SC 3 Intersection Improvements in Barnwell County
Barnwell
Midlands
Blossom Street, Devine Street and Harden Street Safety Project
Richland
Midlands
SC 555 Bridge Replacement over the SCL Railroad in Richland County
Richland
Midlands
Signalization of Percival Road (SC 12) and East Boundary Road (S-1196) to include the realigned I-77 southbound ramps within the traffic signal operation
Richland
Midlands
SC 555 and S-1274 Safety Intersection Improvements Project in Richland County
Richland
Midlands
US 521 Bridge Replacement over Big Pine Tree Creek in Kershaw County
Kershaw
Midlands
Assembly Street Railroad Separation Project in Richland County
Richland
Midlands
S-73 and S-719 Safety Intersection Improvements in Lexington County
Lexington
Midlands
US 1 Bridge Replacement over the CSX Transportation Railroad in Kershaw
Kershaw
Midlands
US 521 Bridge Replacements over the Old Railroad Bed in Kershaw County
Kershaw
Midlands
Roadway Improvements – (S12) Black River Road in Kershaw County
Kershaw
Midlands
I-20 Over Wateree and Swamp Overflow Bridge Rehabilitation/Replacement Package in Kershaw County
Kershaw
Midlands
PROPOSED SAFETY IMPROVEMENT PROJECT AT THE INTERSECTION OF SC 522 AT S-123 (ROCKY RIVER RD / TAXAHAW RD) in Lancaster County
Lancaster
Midlands
Proposed Bridge Replacement Projects US 76/378 Bridge over US 601 and US 601 Bridge over Colonels Creek in Richland County
Richland
Midlands
US 378 over Twelve Mile Creek Lexington County
Lexington
Midlands
US 21 Bridge Replacement over Congaree Creek in Lexington County
Lexington
Midlands
US 21/178 Bypass (Chestnut Street) CORRIDOR IMPROVEMENTS to Orangeburg County
Orangeburg
Lowcountry
South Main Street in Richland County
Richland
Midlands
Improvements SC 19 (Whiskey Rd) at L2492 (Eagle Rd) and S-447 (Old Whiskey Rd.)
Aiken
Midlands
4 Proposed Bridge Replacements on I-20 in Aiken County
Aiken
Midlands
SC 118 (University Pkwy) at S-105 (Vaucluse Rd) Safety Intersection Improvement Project in Aiken County
Aiken
Midlands
S-408 and S-485 Safety Improvement Project
Lexington
Midlands
S-408 and S-204 Safety Improvement Project
Lexington
Midlands
Safety Improvements Project along US 1 in Lexington County, SC
Lexington
Midlands
US 321 Bridge Replacement over Crane Creek in Richland County
Richland
Midlands
Intersection Improvements at US 278 (Williston Rd.) and SC 302 (Silver Bluff Rd.) in Aiken County
Aiken
Midlands
Proposed SC 72 (Church Street) Bridge Replacement over CSX Railroad in Newberry County
Newberry
Midlands
US 1 (Two Notch Road) From S-33 (Trenholm Road) To Valhalla Drive Safety Project in Richland County, SC
Richland
Midlands
Blossom St. Bridge Replacement Project in Richland County, SC
Richland
Midlands
SC 160 Interchange Reconfiguration at I-77 in York County
York
Midlands
US 1 Bridge Replacement over Shaws Creek in Aiken County
Aiken
Midlands
US 176 Broad River Road Safety Project in Richland County, SC
Richland
Midlands
SC 421 Bridge Replacement over Little Horse Creek in Aiken County
Aiken
Midlands
SC 4 (Wagener Road) Bridge Replacement over the South Fork Edisto River in Aiken County
Aiken
Midlands
US 1 Bridge Replacement Over Horse Creek in Aiken County
Aiken
Midlands
US76/378 RRSP Project in Richland County
Richland
Midlands
S-54 (S. Paraham Rd) at S-80 (Campbell Rd) Road Safety Improvements Project in York County, SC
York
Midlands
SC 161/US 321 Proposed Roundabout Intersection in York County
York
Midlands
Blossom Street, Devine Street and Harden Street Safety Project
Richland
Midlands
SC 4 (Stonewall Jackson Blvd.) Operational/Shoulder Improvements Project
Orangeburg
Midlands
SC 97 over Turkey Creek in Chester County
Chester
Midlands
Closed and Load Restricted Bridge Repairs in Fairfield and Chester Counties
Fairfield and Chester
Midlands
US 17 Alternative Rural Roads Safety Project in Dorchester County
Dorchester
Lowcountry
US 301 Bridge Replacement over North Edisto River in Orangeburg County
Orangeburg
Lowcountry
US 17A at S-48 (Bethera Rd) and S-97 (Cane Gully Rd) Safety Improvements Project in Berkeley County
The South Carolina Department of Transportation proposes to provide safety improvements to the intersection of US 17a and S-48 (Bethera Road) and S-97 (Cane Gully Road) in Berkeley County, South Carolina.
Berkeley
Lowcountry
I-526 Lowcountry Corridor
In cooperation with the Federal Highway Administration (FHWA), SCDOT will focus on a critical piece of the I-526 Corridor. The West project is from Virginia Ave to Paul Cantrell Blvd, and the East project is Virginia Ave to US 17 in Mount Pleasant.
Charleston
Lowcountry
Port Access Road
SC Port Access Road will connect Interstate 26 to the South Carolina Ports Authority's Hugh K. Leatherman Sr. Terminal.
Charleston
Lowcountry
I-26 Corridor Management Plan
SCDOT has assembled a team to study the I-26 Corridor between Charleston and Ridgeville. This area generates up to 169,000 daily trips, most of them by vehicles with a single occupant.
Berkeley, Charleston
Lowcountry
US 278 Corridor Improvements
Proposed US 278 Corridor Improvements – Moss Creek Drive to Squire Pope Road in Beaufort County
Beaufort
Lowcountry
US-17 Widening of Speedway Boulevard in Jasper County
Proposed widening of Speedway Blvd beginning at SC Rte 170 in Hardeeville, and ending at the SC/GA state line.
Jasper
Lowcountry
SC 210 Over Providence Swamp in Orangeburg County
Orangeburg
Lowcountry
US 21 Over Edisto Swamp in Orangeburg County
Orangeburg
Lowcountry
City of Abbeville Downtown Sidewalk Improvements Project in Abbeville County
Abbeville
Upstate
Johnston Road (S-72) & Cambridge Street (SC 248) Sidewalk Improvements Project in Greenwood County
Greenwood
Upstate
SC 412 (Rainey Road) over Big Generostee Creek Tributary Culvert Project in Anderson County
Anderson
Upstate
SC 641 Bridge Replacement over Willow Swamp in Colleton County
Colleton
Lowcountry
US 21 Bridge Replacement over Sandy Run Creek in Colleton County
Colleton
Lowcountry
Railroad Avenue Extension in Berkeley County
Berkeley
Lowcountry
US 15 at S-754 Intersection Improvements in Colleton County
Colleton
Lowcountry
US 278 at US 321 Intersection Improvements in Allendale County
Allendale
Lowcountry
US 301 (Five Chop Road) at SC 267 (Tee Vee Road) Safety Improvements Project in Orangeburg County
Orangeburg
Lowcountry
US 176 (St. James Avenue) Safety Improvements in Berkeley County
Berkeley
Lowcountry
Berlin G Myers Parkway Phase III in Dorchester County
Dorchester
Lowcountry
I-26/SC27 Interchange Improvements
The South Carolina Department of Transportation (SCDOT) proposes to widen approximately six miles of I-26 from SC 27 (Exit 187) to one mile west of Jedburg Road (Exit 194).
Berkeley
Lowcountry
US 278 Safety Improvements in Beaufort County
Beaufort
Lowcountry
US 301 Southbound Bridge Replacement over the South Edisto River and Bobcat Landing Road (S-439) Bridge Replacement in Orangeburg and Bamberg Counties
Orangeburg, Bamberg
Lowcountry
Proposed Billy Swails Boulevard – Phase 4B in Charleston County
Charleston
Lowcountry
PROPOSED I-26 SAFETY IMPROVEMENTS Berkeley/Dorchester County
Berkeley, Dorchester
Lowcountry
Proposed Palmetto Commerce Interchange On Interstate 26 in Charleston County
Charleston
Lowcountry
S-29 Red Bank Road Safety Improvements Project Goose Creek, SC
Berkeley
Lowcountry
I-26 Interstate Safety Improvements Project
Berkeley, Dorchester
Lowcountry
SC 61 (Ashley River Road) Rural Roads Project in Dorchester County, SC
Dorchester
Lowcountry
US 15 Bridge Replacement over Indian Field Swamp in Dorchester County
Dorchester
Lowcountry
Mark Clark Extension in Charleston County
Charleston
Lowcountry
US 321 Rural Roads Safety Project in Jasper County, SC
Jasper
Lowcountry
US 301 Northbound Bridge Replacement over Snake Swamp in Orangeburg County
Orangeburg
Lowcountry
Little Swamp Road Bridge Replacement over Smith Branch in Bamberg County
Bamburg
Lowcountry
US 601 at S-1603 (Red Bank Road) and S-2032 (Citadel Road) Intersection Improvements in Orangeburg County
Orangeburg
Lowcountry
US 15 and SC 61 Safety Intersection Improvement Project in Colleton County, SC
Colleton
Lowcountry
Safety improvements at US 15 (JEFFERIES HWY) and SC 61 (AUGUSTA HWY) in Colleton County
Colleton
Lowcountry
US 78 Phase 3 Widening in Dorchester County
Dorchester
Lowcountry
SC 6 Rural Roads Safety Project in Georgetown County, SC
Berkeley
Lowcountry
US 176 and Mudville Road Safety Project
Berkeley
Lowcountry
US 301 over Four Hole Swamp Bridge
Orangeburg
Lowcountry
SC 153 at Old Pendleton Road (S-94) and SC 153 at River Road (S-143) Intersection Improvements in Anderson County
Anderson
Upstate
S-34 (Whitehall Road) at Sullivan Road Safety Improvements
Anderson
Upstate
S-75 (Cherokee Road) Bridge Replacement over US 29 in Anderson County
Anderson
Upstate
Butler Road Improvements Project in Greenville County
Greenville
Upstate
S-164 (Gibb Shoals Road) Bridge Replacement over Enoree River Greenville County
Greenville
Upstate
I-85/I-385 Gateway
SCDOT, and its contractor Flatiron-Zachry, have begun construction activities on the 85/385 Gateway Project.
Greenville
Upstate
I-85 Improvement Project (Phases I/II) in Cherokee and Spartanburg Counties
SCDOT, and its contractor Blythe-Zachry Joint Venture, have begun construction of improvements to the mainline of I-85 between mile markers 77 and 98. Interchange improvements are also being made at Exits 83, 87, 95, and 96.
Cherokee, Spartanburg
Upstate
I-85 Improvement Project (Phase III) in Cherokee County
The preliminary plans for the proposed widening of I-85 from Broad River Bridge to US 29. This project will also include interchange improvements at Exits 100, 102, 104, and 106.
Cherokee
Upstate
Woodruff Road Congestion Relief Project in Greenville County
Greenville
Upstate
Country Club Corridor Project in Spartanburg County
Spartanburg
Upstate
North SC 187 @ Whitehall Road Extension in Anderson County
Anderson
Upstate
US 76 at S-72 Safety Intersection Improvements Project in Laurens County
Laurens
Upstate
Brushy Creek Greenway in Pickens County
Pickens
Upstate
West Market @ Monroe/Southwood Intersection Improvements in Anderson County
Anderson
Upstate
S-93 (Sulphur Springs Rd) Bridge Replacement over McElwain Creek in Spartanburg County
Spartanburg
Upstate
US 29 Bridge Replacement over N. Tyger River in Spartanburg County
Spartanburg
Upstate
SC 9 (Boiling Springs Road) & 4th Street/Shoally Creek Road Intersection Improvements in Spartanburg County
Spartanburg
Upstate
SC 11 and S-58 Safety Improvements Project in Spartanburg County
Spartanburg
Upstate
Lyman Traffic Triangle in Spartanburg County
Spartanburg
Upstate
S-61 (Old Post Road) at SC 11(Chesnee Hwy) and S-81 Intersection Improvements in Cherokee County
Cherokee
Upstate
US 29 Bridge Replacement over Devils Fork Creek in Anderson County
Anderson
Upstate
North Randolph Avenue (S-1734) in Spartanburg County
Spartanburg
Upstate
US 176 (Main Street) and SC 357 (Depot Street/ Holly Spring Road) in Spartanburg County
Spartanburg
Upstate
S-164 Batesville Road Widening Project in Greenville County
Greenville
Upstate
US 178 at SC 88 Safety Improvement Project
Anderson
Upstate
S-140 (Hunts Bridge Road) Bridge Replacement over Shoal Creek in Pickens County
Pickens
Upstate
S-250 (Hester Store Road) Bridge Replacement over Doddies Creek in Pickens County
Pickens
Upstate
SC 146 Woodruff Road Widening Project in Greenville County
Greenville
Upstate
Redesign of the intersection of US 76 and S-1125 (Destination Boulevard/Royal American Road) in Anderson County, SC
Anderson
Upstate
Proposed Bridge Replacement S-300 (Missallie Dr) over Branch of Shell Creek in Laurens County
Laurens
Upstate
US 25 From I-85 to S-782 (Lily Street) Safety Corridor Improvements Project in Greenville County, SC
Greenville
Upstate
S-125 (Freeman Bridge Rd) bridge over the Saluda River - Greenville and Pickens Counties
Greenville, Pickens
Upstate
S-154 (McKelvey Road) Bridge Replacement over Huff Creek in Greenville County
Greenville
Upstate
Woodside Park Connector - Greenville County
Greenville
Upstate
Intersection Improvements at US 76 (Clemson Hwy) and S-60 (Welpine Rd) in Anderson County
Anderson
Upstate
S-793 Bridge Replacement over Providence Branch in Cherokee County
Cherokee
Upstate
S-140 (Faulkner Mountain Rd) Bridge Replacement over Sleepy Creek in Edgefield County
Edgefield
Midlands
S-33 (Cedar Springs St.) Bridge Replacement over Long Cane Creek in Abbeville County
Abbeville
Upstate
S-111 (Erwin Mill Rd) over Broad Mouth Creek Bridge Replacement in Abbeville County
Abbeville
Upstate
Midway Road, Harriett Circle and Crestview Road Intersection Improvement in Anderson County
Anderson
Upstate
SC 24 (West Oak Hwy) at SC 182 (Oakway Rd) and S-116 (Oak Creek Rd) Intersection Improvements in Oconee County
Oconee
Upstate
S-102 Bridge Replacement over Ninety Six Creek in Greenwood County
Greenwood
Upstate
S-27 Bridge Replacement over Ninety Six Creek in Greenwood County
Greenwood
Upstate
SC 146 (Woodruff Road) Safety Improvements Project in Greenville Co
Greenville
Upstate
Shannon Drive (S-384) Bridge Over Brushy Creek
Greenville
Upstate
US 76 and S-1125 (Destination Boulevard/Royal American Road) Intersection Safety Project in Anderson County
Anderson
Upstate
SC 24 Rural Roads Safety Project in Oconee County, SC
Oconee
Upstate
S-671 (Samuel Road) Bridge Replacement over Corner Creek in Anderson County
Anderson
Upstate
S-458 (Mayfield Heights Rd) over Cherokee Creek in Anderson County
Anderson
Upstate
S-83 (Old Grove Road) and Bracken Road Safety Improvements Project in Greenville County
Greenville
Upstate
I-85 at SC 290 DDI in Spartanburg County, SC
Spartanburg
Upstate
SC 135 (Dacusville Hwy) and S-95 (Jameson Road) Safety Project in Pickens County, SC
Pickens
Upstate
S-234 Racetrack Rd. over Dildine Creek in Spartanburg County
Spartanburg
Upstate
(S-272) West Georgia Road Corridor Improvements Project in Greenville County
Greenville
Upstate
Roper Mountain Road (S-548) Drainage Improvements Project
Greenville
Upstate
SC 59, SC 243, and SC 182 Intersection Improvements in the Town of Fair Play, Oconee County
Oconee
Upstate
SC 133 Bridge Replacement over Crow Creek
Pickens
Upstate
Closed and Load Restricted Bridge Repairs in Union County
Union
Upstate
S-129 Bridge Replacement Over Oconee Creek
Oconee
Upstate
S-99 (Rodgers Rd) Bridge Replacement Over Mud Creek
Oconee
Upstate
S-152 (Manning Ave) Bridge Replacement over CSX, Sumter County
Sumter
Pee Dee
US 401 and SC 341 Safety Project in Lee County
Lee
Pee Dee
US 521 Rural Roads Safety Project in Sumter County
Sumter
Pee Dee
Bridge Rehab US 17 SB over North and South Santee River in Charleston and Georgetown Counties
Charleston, Georgetown
Pee Dee
S-87 Bridge Replacement over Smith Swamp in Marion County
Marion
Pee Dee
Manning Avenue (S-152) Improvements in Sumter County
Sumter
Pee Dee
North Main Street (S-5) Improvements in Sumter County
Sumter
Pee Dee
US 76 at S-64 (Laughlin Road/Moores Mill Road) at S-328 (Springville Road) Safety Improvements Project in Marion County
Marion
Pee Dee
US Route 1 Bridge Replacement over CSX Railroad Number 3 in Kershaw County
Kershaw
Midlands
S-76 Edisto Drive Bridge Replacement over Jeffries Creek in Florence County
Florence
Pee Dee
Pinewood Road (SC 120) and McCray's Mill Road (S-33) Intersection Improvements in Sumter County.
The South Carolina Department of Transportation (SCDOT) proposes safety and operational improvements to the intersection of Pinewood Road (SC 120) and McCray's Mill Road (S-33).
Sumter
Pee Dee
I-73 Study
Interstate 73 was identified as a high priority route from Michigan to South Carolina in the Intermodal Surface Transportation Equity Act (ISTEA) that the US Congress passed in 1991.
Marlboro, Dillon, Marion
Pee Dee
S-107 (Alligator Road) Widening - Florence County
The proposed improvements would involve the widening of Alligator Road with a 5-lane section between Knollwood/Walker Swinton Road and US 52, and a 3-lane section between Knollwood/Walker Swinton Road and US 76, a total distance of approximately 7.5 miles.
Florence
Pee Dee
Francis Marion Road @ Old River Road Intersection Improvement Florence County
Florence
Pee Dee
Proposed Bishopville Truck Route in Lee County
Lee
Pee Dee
S-49 (Ebenezer Road) over High Hill Creek in Darlington County
Darlington
Pee Dee
US 52 Bridge Replacement over Swift Creek in Darlington County
Darlington
Pee Dee
S-41 (Senator Gasque Rd), SC 41A, S-51 (Metal Rd) & S-626 (Vera Ct) Intersection Improvements in Marion County
Marion
Pee Dee
US 76 Bridge Replacement over Lynches River Florence and Lee counties
Florence, Lee
Pee Dee
Black River Road Widening Project in Georgetown County
Georgetown
Pee Dee
Riverwood Dr. & Old Kings Hwy in Georgetown County
Georgetown
Pee Dee
Bentree Lane Intersection Improvement in Florence County
Florence
Pee Dee
Forestbrook Road Widening in Horry County
Horry
Pee Dee
Fred Nash Boulevard Connection in Horry County
Horry
Pee Dee
US 17 BYP Widening - Shetland Lane to Backgate in Horry County
Horry
Pee Dee
US 501 Southbound Widening from Gardner Lacy Road to SC 31 in Horry County
Horry
Pee Dee
US 401 Bridge Replacement over Scape Ore Swamp
Lee, Sumter
Pee Dee
US 1 Bridge Replacements in Chesterfield County
Chesterfield
Pee Dee
US 301 Bridge Replacements over Pudding Swamp in Clarendon County
Clarendon
Pee Dee
US 501 SB Widening/Corridor Improvements - Gardner Lacy Road to SC 31 in Horry County
Horry
Pee Dee
US 378 and S-134 Safety Intersection Improvements Project in Horry County
Horry
Pee Dee
US 52 and S-528 Safety Intersection Improvements Project in Darlington County
Darlington
Pee Dee
US 501 Bus. over Waccamaw River in Horry County
Horry
Pee Dee
SC 9 Feasibility Study in Chesterfield County
Chesterfield
Pee Dee
Proposed US 701 Widening from SC 319 to SC 22 Veterans Highway in Horry County
Horry
Pee Dee
Relocation of US 501 in Myrtle Beach from Broadway Street to 9th Avenue
Horry
Pee Dee
SC 9 and SC 410 Safety Improvements Project in Horry County
Horry
Pee Dee
Wampee Road and Little River Road Intersection Improvement in Horry County
Horry
Pee Dee
US 701 Widening (North of Loris) in Horry County
Horry
Pee Dee
Conway Perimeter Road Phase II in Horry County
Horry
Pee Dee
SC 9/57 and S-76 Intersection Improvements in Dillon County
Dillon
Pee Dee
Proposed Fred Nash Boulevard Connection in Horry County
Horry
Pee Dee
US 76/378 Bridge Replacements over US 15 and US 76 Business in Sumter County
Sumter
Pee Dee
SC 9 East Widening in Horry County
Horry
Pee Dee
US 17 Business Intersection Improvement in Horry County
Horry
Pee Dee
Carolina Bays Parkway (S.C. 31) North Extension in Horry County
Horry
Pee Dee
S-472 (Hwy 472) Bridge over Horsepen Creek in Horry County
Horry
Pee Dee
S-45 (Tomahawk Street) Bridge over Tributary to Boser Swamp in Georgetown County
Georgetown
Pee Dee
US 501 from Gardner Lacy Road/ Myrtle Ridge Drive to SC-544 in Horry County
Horry
Pee Dee
S-423 (W. Fairfield Road) Bridge Replacement over Old Mill Creek in Dillon County
Dillon
Pee Dee
US 701 Rural Roads Safety Project in Georgetown County, SC
Georgetown
Pee Dee
Intersection Improvements of Tournament Blvd. and McDowell Shortcut in Horry County
Horry
Pee Dee
US 76/378 Rural Roads Project in Sumter County, SC
Sumter
Pee Dee
S-669 (Louisville Road) Bridge Replacement over Maple Swamp in Horry County
Horry
Pee Dee
US 76 WB over Wateree River Bridge Replacement, Richland and Sumter Counties, SC
Richland, Sumter
Pee Dee
S-97 (Brunson Springs Road) Bridge Replacement over Palmetto Swamp in Horry County
Horry
Pee Dee
S-528 over Cane Savannah Bridge Replacement in Sumter County
Sumter
Pee Dee
S-40 over Mush Branch Bridge Replacement in Sumter County
Sumter
Pee Dee
S-466 over Turkey Creek Bridge Replacement in Sumter County
Sumter
Pee Dee
Coastal Carolina Pedestrian Improvements along SC-544 between Carter Lane and Elvington Loop in Horry County
Horry
Pee Dee
US 17 Alternate Rural Road Safety Project Browns Chapel Road near the Berkeley County Line to US 521 Georgetown County, SC
Georgetown
Pee Dee
S-55 Bridge Replacement over Shot Pouch Branch in Sumter County
Sumter
Pee Dee
Bridge Replacement of S-114 over Turkey Creek in Sumter County
Sumter
Pee Dee
US 17 Over Waccamaw River Bridge Repair Project in Georgetown County
Georgetown
Pee Dee
US 501 at S-132 Safety Improvement Project (William Nobles Road) in Horry County
Horry
Pee Dee